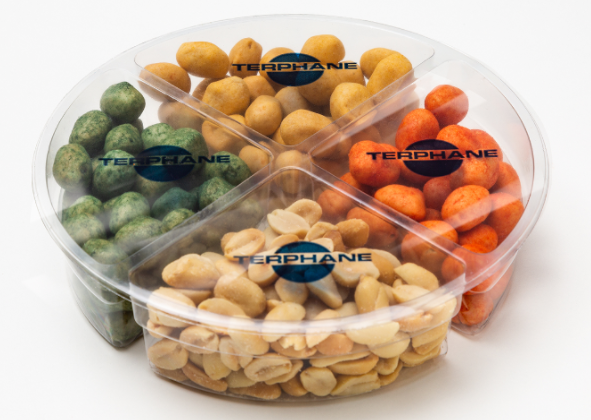 (Rochester, N.Y. – August 18, 2020) The COVID-19 pandemic has led to a heightened awareness of and emphasis on food safety and consumer protection. The Platinum Packaging Group (PPG), a California-based packaging converter and equipment provider, is helping customers respond to these concerns. Using Terphane's specialty polyester post-consumer recycled films ("PCR films"), PPG develops custom flexible packaging solutions for prepared meals and foods for a wide range of customers, including schools, commissaries, and airlines.
With the onset of COVID-19 stay-at-home orders, PPG has seen a major upswing in orders for meal kits, especially from non-profit customers in the Western, Mid-Western and Eastern regions of the U.S. One such organization has experienced an increase from serving 2,000 meals daily pre-pandemic to 8,500 meals per day. PPG has implemented creative approaches to meet this level of growth while ensuring that food safety requirements are met. PPG is leasing its equipment to customers that prepare meals so that packaging can be done onsite, as well as providing repair services for the equipment in its own secure locations to minimize potential exposure to COVID-19.
"Like so many businesses during the pandemic, we've relied heavily on our ingenuity and are doing things that we have never done before. The changes we've made ensure that we're still able to deliver quality products and service while doing what's best for the safety of everyone involved, including the end user," said Nick Lowe, PPG founder and CEO. "Our ability to transition quickly has served us well and will continue to do so as COVID-19 creates lasting changes."
Terphane and PPG work collaboratively to deliver a complete system approach to the production of prepared meals. As a U.S. manufacturer, Terphane is able to quickly get its PCR films to PPG as soon as orders come in. Using a unique co-extrusion solvent-less manufacturing process, Terphane's films are well-suited for packaging that requires an extended shelf life.
"The concerns around ensuring the safety of the nation's food supply have become especially acute during the COVID-19 pandemic. These concerns are more in the forefront of everyone's mind than ever before," said Ezra Bowen, Sales Manager of North America with Terphane. Mr. Bowen added, "While in many cases the way food is packaged may look and feel differently in the future, our focus and commitment are to convenience and continuously strengthening food safety. The benefit to consumers is higher security and improved food quality. We're excited and privileged to work with companies like PPG as they develop these vital new packaging solutions using products from our sustainable portfolio."
PPG and Terphane expect the strong growth of prepared meals which has been seen during the COVID-19 crisis to continue. In fact, demand for pre-packaged, oven-ready meals was already growing in recent years. These items have become a staple in grocery store coolers as a grab-and-go dinner option for busy families and young professionals. Prepared meals are here to stay as a simple solution ensuring that the world's population is safely fed.