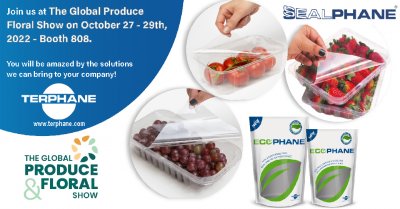 Bloomfield, N.Y., October, 2022 – Terphane (www.terphane.com), a leader in polyester (PET) films and an important global player, will spotlight lidding films that improve food safety and extend shelf life of fruits and vegetables at the 2022 Global Produce & Floral Show. Terphane's Sealphane® lidding films, which include peelable, transparent, resealable, eco-friendly solutions, will be on display in booth #808 at the Orange County Convention Center in Orlando from October 27 to 29.
"COVID-19 brought further attention to the importance of safeguarding fruits and vegetables on retail shelves and the role that tamper-resistant packaging plays in that process. In today's period of high inflation, proper packaging similarly is part of the solution because it enables produce to stay fresh and edible longer, thereby reducing food waste and helping consumers' dollars go farther," said Marcos Vieira, Global R&D Director of Terphane. "At the Global Produce & Floral Show, we'll demonstrate how our lidding films help produce customers meet the expectations of consumers for enhanced food protection and extended freshness, as well as deliver other important benefits and advantages."
Sealphane® film solutions are used to create lidding and tray packaging that is ideal for fresh produce. For example, a strong tamper-evident lidding seal provides greater protection and longer shelf life for foods than clamshell or other containers. The Sealphane® family of transparent, biaxially oriented polyester films delivers excellent thermal and mechanical stability and provide a strong barrier to gas, water vapor, and aroma that can reduce freshness and quality of food products. The films are heat sealable, easily peelable on one side, and corona treated on the other for enhanced adhesion to inks, adhesives, and varnishes, and can be antifog treated for reduced fogging and greater clarity.
Environmental benefits of Sealphane® films include using less plastic in packaging applications. In addition, Sealphane® films are available with Ecophane® rPET films, which are produced with a minimum of 35% post-consumer recycled PET resin, and Ecophane bPET films, a biodegradable film manufactured through a technology that enables degradation in landfills.
The newest addition to Terphane's line of Sealphane® films for fruit and vegetable packaging, the Sealphane® Reseal solution, will also be highlighted at the Global Produce & Flower Show. An innovative resealable film that also meets demand for resealable, tamper evident, multi-use lidding solutions, the Sealphane® Reseal solution eliminates the need to label, laser score, or buy any tooling to provide a die cut package. This technology saves time, money, and the risk of capital obsolescence if the tray, or container, changes in the future. Sealphane® Reseal is transparent, with thermal stability and mechanical properties that seal to many different substrates and provide a strong barrier to gas, water vapor, and aromas to keep products safe from contamination and stay fresher, longer.
Visitors to Terphane's booth will see a live demonstration of the capabilities and benefits of Sealphane® films. A tray sealing machine from Proseal will apply Sealphane® films to create packaging for fresh lettuce.
To learn more about Terphane, visit www.terphane.com 
About Terphane
Since its founding 1976, Terphane has developed technologies and processes to produce specialty bioriented polyester films (BOPET). With significant experience and technical knowledge in film production, coating, and metallization, the company is recognized for its vertical integration, from resin to specialty films. Terphane is a global leader in specialty PET films, and a key company in Latin America. Terphane is a subsidiary of U.S.-based Tredegar Corporation (NYSE:TG).