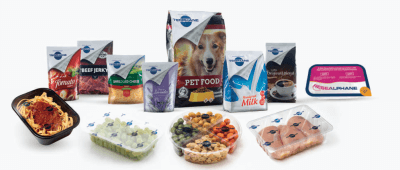 The company will focus on the Sealphane® (resealable)
and Ecophane® (sustainable) solutions.
Bloomfield, NY September 2023 – Terphane (www.terphane.com), a leader in BOPET films (polyester) in Latin America and an important global player with operations in USA and Brazil, will present its full line of innovative solutions in polyester (PET) films at PACK EXPO Las Vegas (September 11-13).
Terphane offers a complete BOPET films line: transparent, metallized and coated films, as well as the Sealphane® and Ecophane® product lines. These lines will be highlighted at PACK EXPO Las Vegas 2023. 
The introduction of Resealphane, a high-performance resealable lidding film, offers the latest innovation within the Sealphane® line of heat sealable films. This new film can be opened and reclosed multiple times, is tamper evident, guarantees the complete opening of the packaging, and is sustainable. In addition, Resealphane can be easily processed and integrated into existing packaging lines.
The sustainable Ecophane® line offers post-consumer recycling content (PCR) and biodegradable (BIO) options. The PCR version can have up to 35% of recycled content and the BIO product degrades in landfill conditions. The U.S. Food and Drug Administration has approved both films for food contact. 
"Terphane is excited to present the Resealphane® line, a new resealable packaging solution with high performance and easy implementation. These innovative lidding films will bring a new level of convenience, safety and sustainability to several markets, including fresh produce, proteins and bakery. We are also very proud of the advanced development of the Ecophane® product line," stated Raymond Joyner, North America Sales Manager.
Visit Terphane at PACKEXPO Las Vegas booth N-9122
About Terphane
Since its founding in 1976, Terphane has developed technologies and processes to produce specialty bioriented polyester films (BOPET). With significant experience and technical knowledge in film production, coating, and metallization, the company is recognized for its vertical integration, from resin to specialty films. Terphane is a global leader in specialty PET films, and a key company in Latin America. Terphane is a subsidiary of U.S.-based Tredegar Corporation (NYSE:TG).