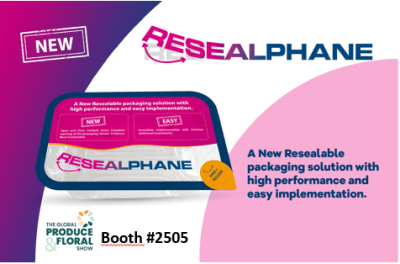 Terphane will focus on the benefits of Sealphane®, Resealphane and Ecophane® solutions in booth #2505.
Bloomfield, New York, October 2023 – Attentive to the market's trends of natural, healthy, fresh and convenient products, Terphane (www.terphane.com), the leader in PET (polyester) films in Latin America with operations in USA and Brazil, developed specific solutions to fulfill the needs of the fruits and vegetables segments. The solutions – Sealphane®, Resealphane and Ecophane®, will be presented at IFPA 2023 – The Global Produce & Floral Show, scheduled Oct 19-21, in Anaheim, CA, USA, organized by IFPA (International Fresh Produce Association).
According to Raymond Joyner, North America Sales Manager, Terphane´s expertise resulted in innovative solutions to these markets. "We are  focused on sealable, resealable, and sustainable films that improve the consumers experience at the POS and during consumption. These solutions also increase the shelf life of the products. The consumer can see the product and knows the packaging is easy to use and sustainable; it is mono-material, recyclable and, in some cases, produced with post-consumer recycled content (PCR)."
The first line developed by Terphane to meet these requirements that will be presented at IFPA 2023 are the sealable polyester films of the Sealphane® family. Besides improving the shelf life of fruits and vegetables, the packaging guarantees the integrity of the products during transport and storage, avoiding waste. Logistics also benefit from packaging which requires less space. The advantages are even greater when considering self-service and online sales.
The latest innovation within the Sealphane® heat sealable line is the introduction of Resealphane, a high-performance resealable film, which is easy to process and can be implemented into existing packaging lines without new investments. This new film can open/reclose multiple times, is tamper evident, guarantees the complete opening of the packaging and is sustainable.
"We are excited to present Resealphane technology, which allows all packaging converters and brand owners the opportunity to migrate from a conventional lidding packaging structure, such as lock seal or easy open, to a high-performance resealable solution without the need for additional investments. This innovation unlocks opportunities for fresh fruits and vegetables that would benefit from a resealable lidding solution," states Raymond. 
Adding to its sustainable solutions, Terphane will present Ecophane® at IFPA 2023. The sustainable Ecophane® line is offered in two versions: PCR polyester (post-consumer recycled content) and biodegradable (BIO). The PCR film can have up to 35% recyclable content and the BIO film degrades in landfill conditions. Both films are approved for food contact by the FDA (USA).
Visit Terphane at #GPFS2023, in Anaheim, at booth 2505.
About Terphane
Since its founding in 1976, Terphane has developed technologies and processes to produce specialty bioriented polyester films (BOPET). With experience and technical knowledge in film production, coating, and metallization, the company is recognized for its vertical integration, from resin to specialty films. Terphane is a global leader in specialty PET films, and a key company in Latin America. Terphane is a subsidiary of U.S.-based Tredegar Corporation (NYSE:TG).