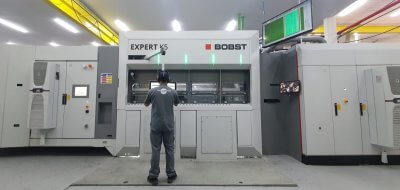 The equipment will guarantee an increase of around 30%
in the metallization capacity of polyester films.
Bloomfield, N.Y., September 2022 – With the purpose of expanding its production capacity to meet the demand for high barrier metallized films, Terphane (www.terphane.com), a leader in PET films (polyester) in Latin America and an important global player, invested in another 'state of the art' metallizer produced by Bobst. The equipment, which incorporates the most modern metallizing technology in the Americas, is operating in Terphane's factory in Cabo de Santo Agostinho, state of Pernambuco, Brazil.
According to Mauro Castro, Production Manager responsible for Strategic Projects at Terphane, this is the second piece of similar equipment installed by Terphane in the Americas. "The technology guarantees better quality in deposition and reduces possible problems during the metallization process. Films inspection is done on-line, and the equipment can detect small failures in metallization that could not be seen by the human eye."
Research conducted by Markets and Markets™ estimates that the global market for metallized flexible packaging could achieve $5.8 billion by 2025, up from $4.5 billion in 2020. One of the main drivers is the migration of products traditionally presented in rigid packaging such as metal can, cardboard and glass to flexible packaging, which increases the demand for special films with high humidity, water and light barrier. Among the main markets are fresh produce, prepared meals, coffee, condiments, snacks and candies, pet food and dairy.
"It's in Terphane´s DNA to closely follow the main global consumption trends. That's the reason we invest continually in increasing capacity to produce films aligned to consumers habits," stated José Bosco Silveira Jr., President of Terphane Group. He added, "Continuous investments prepare Terphane to perform in the polyester markets in a more efficient and high-tech manner and to track the increase of flexible packaging in various markets. Every year these packages occupy more space on retail shelves and are chosen by consumers for their functionality, light weight, lower volume in waste and excellent cost benefit ratio."
These high barrier polyester metallized films can replace aluminum foil in multiple applications and guarantee a better cost benefit ratio, thanks to the reduced thickness and better processing in packaging converting and filling lines at brand owners' plants. "The solution also has a reduced footprint, with benefits to sustainability throughout the production chain," explains Bosco.
Eduardo Petroni, Managing Director, Bobst Latin America, says, "We are very proud to support Terphane's success in a highly competitive market for sustainable products.  We are happy that Bobst technologies helps Terphane reach its strategic goals." 
About Terphane
Since its founding 1976, Terphane has developed technologies and processes to produce specialty bioriented polyester films (BOPET). With significant experience and technical knowledge in film production, coating, and metallization, the company is recognized for its vertical integration, from resin to specialty films. Terphane is a global leader in specialty PET films, and a key company in Latin America. Terphane is a subsidiary of U.S.-based Tredegar Corporation (NYSE:TG).