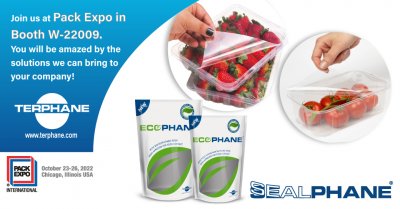 Bloomfield, N.Y., October, 2022 – Terphane (www.terphane.com), a leader in polyester (PET) films and an important global player, will spotlight its extensive portfolio of innovative specialty polyester films in booth W-22009 at PACK EXPO 2022, October 23-26, taking place at McCormick Place in Chicago. Terphane's specialty polyester films are used in various flexible packaging applications and provide numerous benefits to brand owners of food, beverages, and other products.
At PACK EXPO, Terphane will showcase its expansive lines of specialty polyester films for flexible packaging featuring sealable, resealable, peelable, and high-barrier properties that increase a product's consumer appeal, safety, and shelf life. Terphane will also highlight its sustainable product portfolio and its latest sealable film solution.
"Terphane's specialty polyester films are designed to meet the unique needs of each flexible packaging customer and support their applications to meet consumer demand for packaging that enhances convenience, food safety, and extended freshness, while featuring environmentally-friendly characteristics," said Marcos Vieira, Global R&D Director of Terphane. "As the show returns to Chicago for the first time since 2018, we're looking forward to welcoming customers and prospective customers to our booth at PACK EXPO."
Terphane's featured products at the show include Sealphane®, a heat sealable PET film which helps improve food safety through the development of packaging that clearly indicates that a tray or package has not been compromised. Sealphane® delivers tamper-evident, multi-use lidding solutions with tray and lidding film package options. Sealphane® is recyclable, peelable, solvent-free and features anti-fog, high clarity properties to improve product visibility. Sealphane® films are FDA approved for direct food contact by International Standards.
Environmental benefits of Sealphane films include using less plastic in packaging applications. In addition, the Sealphane family of films are available with Ecophane® rPET technology, produced with a minimum of 35% post-consumer recycled PET resin, and Ecophane® bPET, a biodegradable film manufactured through a technology that enables degradation in landfills.
The newest addition to Terphane's line of Sealphane solutions for packaging, the Sealphane® Reseal, will also be displayed at PACK EXPO 2022.  An innovative resealable structure that also meets demand for resealable, tamper evident, multi-use lidding solutions, the Sealphane® Reseal solution eliminates the need to label, laser score, or acquire any tooling to provide a die cut package. Sealphane® Reseal is transparent, with thermal stability and mechanical properties that seal to many different substrates, and provides a strong barrier to gas, water vapor, and aromas, allowing products to remain safe from contamination and stay fresher longer.
Matte-finished films, which are used to create packaging with a unique look and feel that helps products stand out in the retail environment, round out Terphane's featured solutions at PACK EXPO. Terphane's portfolio of matte-finished film delivers outstanding sustainability characteristics, while its anti-glare surface makes it easy to read all of the information required on the packaging. In addition, a version of velvety touch film is available.
To learn more about Terphane, visit www.terphane.com
About Terphane
Since its founding 1976, Terphane has developed technologies and processes to produce specialty bioriented polyester films (BOPET). With significant experience and technical knowledge in film production, coating, and metallization, the company is recognized for its vertical integration, from resin to specialty films. Terphane is a global leader in specialty PET films, and a key company in Latin America. Terphane is a subsidiary of U.S.-based Tredegar Corporation (NYSE:TG).