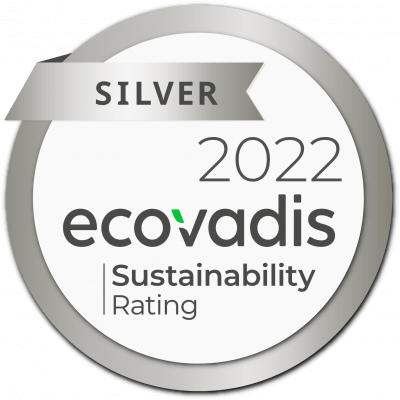 Bloomfield, N.Y., February – Terphane (www.terphane.com), a leader in polyester (PET) films and an important global player, was awarded recognition for the second consecutive year from EcoVadis, an international provider of sustainability ratings. Terphane received the Silver medal for 2021, following recognition at the Bronze level in 2020.
"Receiving Silver from EcoVadis this year is an important recognition, as it is a very rigorous certification. This demonstrates our continuous efforts to put not only Terphane, but the entire food and consumer products packaging segment, on the route to an increasingly sustainable future. This is an extremely relevant recognition for the company and places us in a select group of companies that demonstrate real concern and effective actions aligned with the environmental, social and governance pillars of sustainability," stated José Bosco Silveira Jr., president of the Terphane Group.
EcoVadis aims to develop companies' ESG practices based on their influence in global supply chains. It is a collaborative platform that allows companies to monitor the sustainable performance of their suppliers in 150 sectors and 110 countries. Currently, the EcoVadis database includes more than 50,000 companies. The platform provides tools that can be used to facilitate risk management and encourage the introduction of innovations in global supply chains.
In addition to various social actions, Terphane continually reaffirms its commitment to preserving the environment and its leading position in the circularity of PET packaging. "In 2021, the company used more than 2.2 million pounds of food grade post-consumer recycled resins in the production of the Ecophane line of films. Through this circular process, the equivalent of 80 million, 20 fluid ounce PET bottles discarded after consumption were recycled," said Bosco. The Ecophane line is the only one in the world approved for contact with food by the FDA in the United States, the EFSA in the European Union, and Anvisa in Brazil.
To learn more about Terphane, visit https://www.terphane.com 
About Terphane
Since its founding 1976, Terphane has developed technologies and processes to produce specialty bioriented polyester films (BOPET). With significant experience and technical knowledge in film production, coating, and metallization, the company is recognized for its vertical integration, from resin to specialty films. Terphane is a global leader in specialty PET films, and a key company in Latin America. Terphane is a subsidiary of U.S.-based Tredegar Corporation (NYSE:TG).