TERPHANE RANKS AMONG BEST COMPANIES TO WORK FOR IN NEW YORK STATE BY NYS-SHRM FOR THE FOURTH CONSECUTIVE YEAR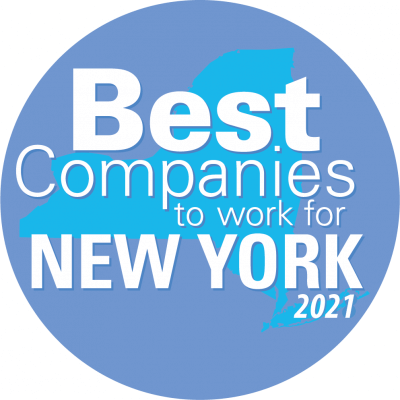 Bloomfield, N.Y., July, 2021– Terphane (www.terphane.com), a global player in specialty polyester films, has once again been honored by the New York State Society for Human Resource Management (NYS-SHRM), making its list of Best Companies to Work for in New York State. 2021 marks the fourth year in a row that Terphane has been recognized in the small employer category. The Best Companies to Work for in New York State program is a partnership between the NYS-SHRM and Best Companies Group.
This statewide survey and awards program is designed to identify, recognize and honor the best places of employment in New York, whose practices benefit the State's businesses, economy, and workforce. Companies are evaluated and ranked, based on employee satisfaction and engagement, as well as workplace practices and policies.
"We are honored to again be recognized among the top companies to work for in the state of New York," said José Bosco Silveira Jr., president of Terphane. "Earning a spot on this prestigious list reflects our commitment to providing employees with a positive experience in every aspect of their work life and workplace."
Terphane actively encourages continuous learning and growth opportunities for its employees. Operators are empowered to take initiative to promote their development through Terphane's skills matrix program, which rewards employees as they develop new skills.
Terphane has over 45 years of experience in the business of flexible packaging film design, coating, metallizing, specialty coextrusions, and more. As one of only a few U.S.-owned PET film manufacturers, Terphane is continually investing in sustainable technology, state of the art equipment, and most importantly, relationships with its customers and employees.
To learn more about rewarding career opportunities with Terphane, please visit: https://www.terphane.com/en/careers/.
About Terphane
Since 1976, Terphane has developed technologies and processes to produce specialty bioriented polyester films (BOPET). With significant experience and technical knowledge in film production, coating and metallization, the company is recognized for its vertical production, from resin to specialty films. Terphane is the leader in PET films in Latin America and an important global player. Terphane is a subsidiary of U.S.-based Tredegar Corporation (NYSE:TG).